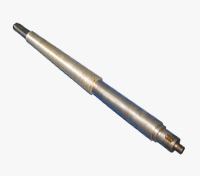 Length                     =     Up to 12 metres (40 feet)
Diameter                 =     Up to 1 metres (3 feet)
(Pitch in inch & m.m. section thread with proper finishing)
Saraswati Manufacturing Works makes high quality lead screwsby rolling through precision dies.They are used in our positioning equipment. You can also buy the lead screws alone.
Sizes Available for Lead Screw Diameter & Pitch
English Thread Lead Screws

Metric Thread Lead Screws
And we can combine left and right hand threads on a single shaft for together + apart motion.
Our lead screws are 303 stainless steel, except the 5 and 10 pitch (Code: W1, W2 and P5, P10) lead screws which are electroless nickel plated, cold rolled steel.]]
Characteristics Of Lead Screws
A leadscrew nut and screw mate with rubbing surfaces, and consequently they have a relatively high friction and stiction compared to mechanical parts which mate with rolling surfaces and bearings. 
Leadscrew efficiency is typically between 25 and 70%, with higher pitch screws tending to be more efficient.

The high internal friction means that leadscrew systems are not usually capable of continuous operation at high speed, as they will overheat. 

Leadscrews are typically used well greased, but, with an appropriate nut, they may be run dry with somewhat higher friction. There is often a choice of nuts, and manufacturers will specify screw and nut combination as a set.
The mechanical advantage of a leadscrew is determined by the screw pitch and lead.
A lead screw will back drive, whereby forces on the nut applied parallel with the lead screw will cause a free-moving leadscrew to begin to rotate.
Advantages
Large load carrying capability
Compact
Simple to design
Easy to manufacture; no specialized machinery is required
Large mechanical advantage
Precise and accurate linear motion
Smooth, quiet, and low maintenance
Minimal number of parts
Due to the low efficiency they cannot be used in continuous power transmission applications.

They also have a high degree for friction on the threads, which can wear the threads out quickly.